Sicily Environment Fund becomes an Italian Foundation!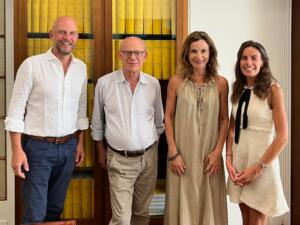 Raising the impact of philanthropy to protect the environment in Sicily.
Almost a year after its launch, the Sicily Environment Fund (SEF) has been registered as an Italian Third Sector Entity Foundation for charitable purposes. The Constitutive Act was stipulated by the notary public Carlo Saggio in Milan, who assisted pro bono the Foundation, together with the invaluable support of TARGET law firm.
Thus far, SEF has operated as a branch of the Conservation Collective, the British charity founded by Ben Goldsmith in 2008, working as an incubator of a global network of over 20 environmental local foundations, from Barbados to the Balearic Islands, Greece and Italy. Today, SEF becomes a local entity in Sicily with the scope to further promote philanthropic approaches in support of conservation initiatives.
SEF was started by a group of entrepreneurs and professionals passionate about Sicily to preserve its beauty and ecosystems. The local team made by Gaia Agnello, Executive Director, and Ambra Messina, Communications Manager, fosters a new model for Sicily leveraging local grassroots organisations and experts to address the main environmental challenges in order to achieve sustainable results over time.
The President of the Foundation, Cinzia Rutson Catanoso, entrepreneur in the legal field and film producer, commented: "I am very grateful for the opportunity to chair the SEF and I am delighted with the results achieved in a short time. SEF was born from the experience of the Aeolian Islands Preservation Fund, through which, since 2015 we have supported about 40 projects in the archipelago. We have now extended the scope and scaled up; our passionate team has been actively identifying and developing relevant environmental initiatives for Sicily".
Jon Moslet, SEF founding member and tourism entrepreneur, says: "Sicily offers memorable experiences of cultural and naturalistic landscapes to its visitors. With SEF, we aim to actively support the best local nature conservation initiatives. I would like to appeal to all Sicilian entrepreneurs to join our efforts in achieving concrete results in the short and long term. It is up to us, who live and work in Sicily, to protect this unique heritage."
The Sicilian charity supports nature conservation projects promoted by non-profit organisations, associations, clubs, trade unions or committees, research centres, social cooperatives and other local entities. The projects funded by SEF must ensure a bottom-up integrated approach with a positive impact on the environment and on the sustainable economic and social renewal of local communities.
SEF has already raised 100.000 Euros and funded four projects aimed at: recovering ghost nets in the Marine Protected Area of ​​Ustica; creating a caper plant nursery in Stromboli in an area devastated by a fire in 2022; and training local nature guides on Rewilding theory and practices.
Next autumn, the fourth project, "Plastic Free Schools" will kick off in the schools of the small islands in partnership with Marevivo and thanks to the support of the well-known English band, Depeche Mode, and the Swiss manufacturer of luxury watches, Hublot, who are fundraising for the Conservation Collective and SEF.
Board members (Founding members):
Cinzia Rutson
Jon Moslet
Rossella Beaugié
Steering committee:
Cinzia Rutson
Jon Moslet
Rossella Beaugié
Stefania Calice
Lorenzo Matacena
Elisa Schembari
Salvo Moschella
Honorary members:
Ben Goldsmith
Jade Brudenell
Scientific advisory board:
Giuseppe Barbera
Andrea Sforzi
Margherita Vitale
Eleonora Riva Sanseverino
Giuseppe Parisi
Executive Director: Gaia Agnello gaia@sicilyenvironment.org
PR and Communications: Ambra Messina ambra@sicilyenvironment.org