Applications are open for the Rewilding Guide Training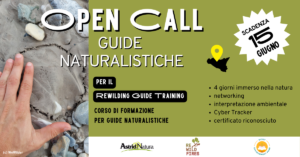 Applications are open for the Rewilding Guide Training to all Sicilian nature guides!
15 participants will be selected from all over Sicily. The training course is organised by
Astrid Natura
and
Rewildfires
with the support of the
Sicily Environment Fund
.
A webinar with international trainers will be open to all, and a 4-day infield training course will be dedicated to the CyberTracker methodology, a tool used for animal tracks and signs identification and landscape interpretation.
The project is the first of its kind in Sicily and sets the basis to improve the local nature-based economy in the ecotourism sector and to adopt citizen science participatory approaches, with the aim of contributing to the preservation of terrestrial biodiversity and of encouraging traditional rural practices in the area.
Rewilding is a cutting-edge approach to conservation, promoting a new nature-based economy, with the goal of restoring natural environments. This movement is showing promise for Europe and will be promoted in Sicily through the project.
Cyber Tracker software will allow to gather datas and create a database to inform correct land management, fire prevention and future rewilding measures in Sicily.
Astrid Natura deals with planning, teaching and scientific knowledge, training of naturalistic guides and guided tours to Parks and Protected Areas of Sicily. Its operators are naturalistic guides affiliated to FederEscursionismo Sicilia.
Rewildfires is a grassroots organisation exploring the issue of wildfires in Sicily and how Rewilding and grazing systems can have a regenerative impact for a wilder Sicily with happier people and ready for the future. Activities include community building, capacity training, monitoring and data gathering, science communication, research and habitat restoration.
Sicily Environment Fund (SEF) raises funds to support conservation projects in Sicily. The SEF is part of the Conservation Collective, a network of local foundations funding effective grass-roots conservation initiatives to protect the environment, restore nature and safeguard against climate change.
Deadline: JUNE 15, 2023!
For further information: Luisa Sausa (sausa.luisa@gmail.com)