Conservation Collective Global Gathering in Corfu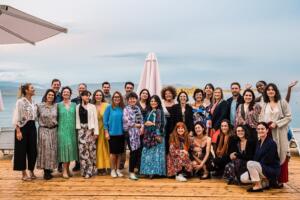 In May the Conservation Collective foundations gathered in Corfu for a retreat combining workshops, field trips, and knowledge exchange.
Conservation Collective members from around the world met in Corfu the first week of May for our second ever Global Gathering. Hosted by the Ionian Environment Foundation (IEF) and Kontokali Bay Resort & Spa, this week is fast becoming a treasured date in the annual calendar. The Global Gathering brings local foundations directors and team members, CC core team and other key stakeholders together to spend valuable time in person sharing knowledge and seeding new ideas.
Our days were spent learning from each other and about the island through workshops, site visits and  'spotlight' presentations showcasing projects – exploring wins and lessons from each foundation across the global network. Experts in their field joined us as well, sharing inspiring and helpful advice with the group, Brendon Moorehouse our Trustee, described some impressive wins defending nature in the UK courts, and longstanding co-funder Rory Moore from BLUE Marine Foundation sparked us all to think longer term and more joined up in our approach to marine protection. Simon Nash, who heads up Wilder Selwood (a CC branch enabling rewilding through a landowners coalition), shared his experiences leading the Somerset Wildlife Trust and Wetlands International in our 'All about Impact Session'.
Each director gave a 'spotlight' presentation to the group, highlighting a diverse range of impactful projects from the campaign to stop the unlawful use of Acoustic Deterrent Devices in Scotland, to the replication of the Amorgorama initiative in the Argolic Gulf, and the use of theatrical arts to educate school children in Cyprus about marine conservation.
The afternoons included field trips to meet IEF grantees such as the inspirational community-led recycling centre 'Sin.Praxi', and to learn about the rich (and tragic!) cultural history of Corfu Town. We swapped stories over delicious Greek salads and rich wonderful tzatziki, whilst we heard from speakers including the Save Erimitis Campaign team, the Corfu Butterfly Project and the hotel manager himself about its own sustainability efforts and challenges.
We were delighted to have Conservation Coaching, join us for a conscious leadership session; a snippet of a wider 6-week programme some of our members partook in last year.
The week concluded with an awards ceremony, presented by Lee Durrell, an IEF ambassador, naturalist and stalwart of Corfu – her widow Gerald Durrell was the naturalist who wrote the beloved My Family and Other Animals, part of the Corfu Trilogy. The Collectives celebrate and showcase success stories from across the network, the six awards were judged by our Global Advisory Panel, comprising a range of sector experts who offer ad hoc advice to boost local expertise when needed.