Why is the environment more important than ever in Sicily?
by Jon Moslet, Founding member, Sicily Environment Fund
As a Scandinavian expatriate in Italy I quickly discovered the incredible treasures of Sicily and, above all, the Sicilian sense of hospitality, literally pouring out through immense generosity, humanity and, perhaps most importantly, at meal times! This is why I chose to invest and work in Sicily.
In my sector, tourism, over the course of just 15 years, Sicily has undergone a complete transformation. Both foreign and local investors are helping to regenerate town centres, restoring houses and palaces in the countryside, opening restaurants tapping into Sicily's multicultural heritage and encouraging more and more people to visit and explore the island, creating jobs and opportunities along the way. Sicilians may not be aware of it themselves, but right now Sicily is on everyone's lips.
From Sydney to New York, everyone wants to experience your hospitality. They want to see the beaches and the coast line, they want to scale Etna and drink volcanic wines, they want to marvel at greek, roman and baroque treasures, they want to try granita, arancini and exclaim "holy cannoli!". And they will taste some of the best local produce in the world, thanks to the incredible fertility and biodiversity of Sicily.
But don't be fooled! Today's travellers are discerning and have higher expectations than ever. They are able to choose between a myriad of emerging and exciting destinations vying for their attention all over the world. Going forward, the single most important differentiating factor in their travel and spending choice will be the environment. Why should they in the end choose Sicily?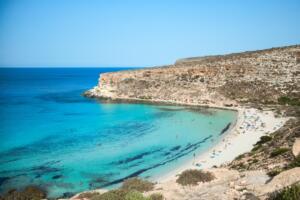 Visitors want to see cleanliness, pristine nature, respectful practices and sustainability – in their hotel or agriturismo, during their urban sightseeing and shopping, while trekking in a national park, biking along countryside roads, diving into the sea or simply while walking back from their late night dinner.
Personally, I know that a vast majority of Sicilians would like to see the environment treated better than it is today too. To fall back in love again with the natural beauty of their island, and to see the wonders of Sicily through the eyes of the visitor. How can I persuade you to do so?
A wise man said that Sicilians are not easily persuaded by words, they have heard it all before. But they may be swayed by example. The founders of the new Sicily Environment Fund have made the conscious decision to act, to make a difference. We may come from very different backgrounds, but we are all Sicilians together. We, as well as you, must have the courage to take the first step. Don't be afraid to show your family, your neighbours and your community how to value the environment where we live, work and spend our free time. It is the greatest treasure we have and it is our individual responsibility to protect it, for ourselves, for our children and for our visitors.