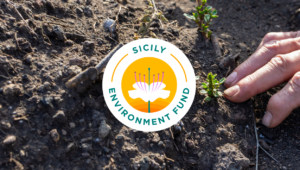 "We are happy to announce the launch of the Sicily Environment Fund as a registered Italian foundation! The local entity continues to work towards the same goals as an affiliate of Conservation Collective. The Constitutive Act was stipulated by the notary public Carlo Saggio in Milan, who gave us pro bono assistance during the process, together with the invaluable support of TARGET law firm.
In our first year of activity, thanks to our donors and supporters, SEF has contributed to the implementation of five projects in Sicily focusing on terrestrial and marine conservation, ecological transition and sustainable food systems.
We are developing a pipeline of new projects for 2024 addressing current environmental challenges including invasive alien species, wildfires, marine ecosystem degradation and waste management. A new series of events will take place to celebrate the results achieved. Stay tuned for announcements!"
Gaia & Ambra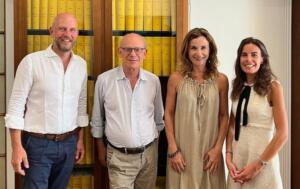 SEF projects & partnerships
Caper plant nursery in Stromboli, Aeolian islands  
The caper plant nursery has been set up on a land previously abandoned and devastated by last spring's fire. Thanks to our grantee Attiva Stromboli, the local community has been working tirelessly to manage and restore the land, protect it from fire outbreaks and reduce the hydrogeological risk. Plants have been propagated by cuttings, to keep native characteristics, and by sowings seeds, to grow stronger and productive plants. Drystone walls and terraces were restored to host plants. An irrigation system was created by refurbishing a 19th century agricultural cistern powered by a newly installed solar panel.
The nursery promotes sustainable farming systems and aims to raise awareness on the key role of land management and its benefits for fire prevention.
Our project contributes to 'Let's grow an idea'. Find out more.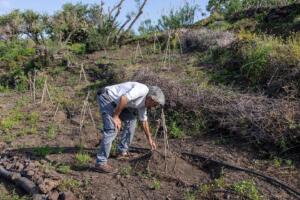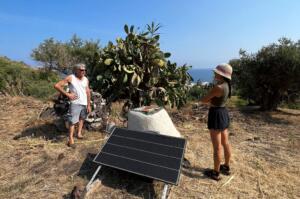 Ghost nets recovery in Ustica island Marine Protected Area 
Over 500 kg of ghost nets have been recovered in Ustica by Mare Nostrum Diving in collaboration with the Marine Protected Area and local fishermen! The sites of Punta Falconiera, Punta San Ferlicchio, Secca della Colombara and Scoglio del Medico are now freed from lost or abandoned fishing nets, releasing trapped species and habitats from these silent killers.
Students from the Biological, Geological and Environmental Sciences Department of the University of Catania added a valuable research component to the project, conducting a study on the fauna associated with ghost nets and an evaluation of their impact on the marine environment.
Watch the trailer of the documentary by Stefano Coco (Riccio Blu) in collaboration with the MPA, introducing the project and the challenges associated with ghost nets. Find out more.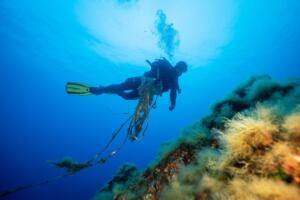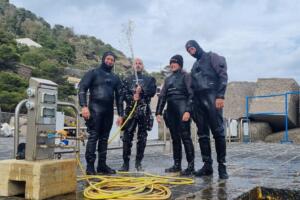 Rewilding guide training 
15 local nature guide from all over Sicily will attend the training with Rewilding at its core, conducted by Astrid Natura in collaboration with Collettivo Rewild Sicily, and patronage of Dipartimento Ambiente – Regione Siciliana.
A webinar on the 18th October at 15:30 CEST with international experts – and open to the public – will prepare participants and will contribute towards a pro-rewilding culture in Sicily. The 4-day infield training course will be dedicated to the CyberTracker methodology, a tool used for animal tracks and signs and landscape interpretation. The aim is to strengthen nature-based economy in the ecotourism sector, while preserving terrestrial biodiversity and traditional rural practices. Additional data provided through a citizen science approach will be key for evidence-based land management, fire prevention, control and future rewilding measures. Find out more.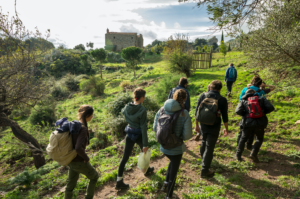 Join here our  upcoming Rewilding Guides Webinar on Wednesday 18th of October at 15:30.
Meeting ID: 857 7429 9805
Passcode: 912364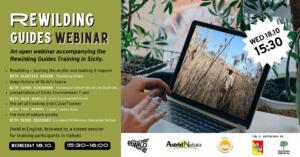 ResponSEAble seafood guide   
Our "Guide to ResponSEAble Consumption" is out! The guide, aimed at informing on sustainable seafood consumption in Italy, has been developed by Kurma NGO with the support of Blue Marine Foundation and SEF.
We thank Officine Grafiche for their support with printing the infographics and thanks also to Gruppo Caronte & Tourist for exhibiting them in their ships.
Check out the guide and get in contact if you wish to exhibit the infographic in your restaurant or local business. Find out more.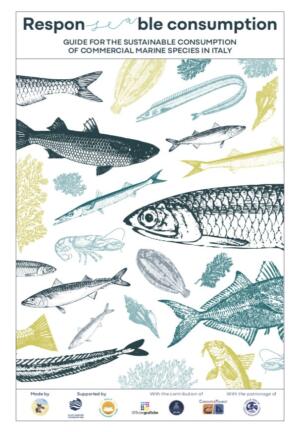 Plastic free schools small islands
A new project just started with Marevivo to tackle plastic pollution in the schools of the small islands. Thanks to funding received from Conservation Collective through their Depeche Mode and Hublot partnership during the Memento Mori world tour, a competition will be launched among schools to reduce plastic usage with the final prize being three water filtration machines and reusable water bottles for the three best schools. Find out more.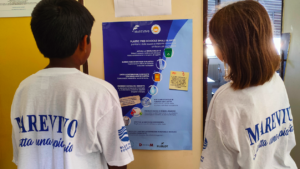 Latest events
Depeche Mode live concert in Milan
We celebrated our partnership with Depeche Mode and Hublot in occasion of the Memento Mori Tour 2023 live concert in San Siro, Milan. Live Nation and Depeche Mode's team hosted us with a promotional stand promoting Conservation Collective and Sicily Environment Fund. The partnership video  was screened before the concert and watched by thousands of fans!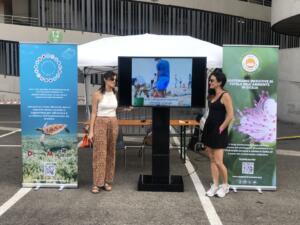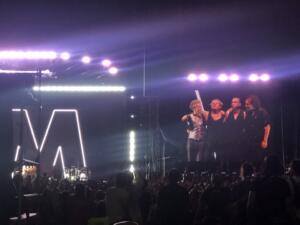 Raising funds for the caper plant nursery in Stromboli
An event organised by Attiva Stromboli to raise further funds through the selling of branded jars of capers in order to keep on supporting the project in the future. The local community will continue to manage the land beyond the project for fire prevention and for reducing the hydrogeological risk.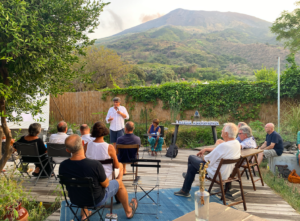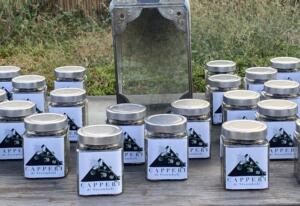 Other events 
Our partner Collettivo Rewild Sicily, invited us to join the kick-off event of the citizen science project funded by Impetus4cs, which will follow up our Rewilding Guide training project. The project aims at promoting local knowledge on biodiversity and wildfires involving herders, hunters and foresters.
We joined Studio Rizoma for the School of Water Scarsity at Ecomuseo Mare Memoria Viva in Palermo. While cooking caper paté we shared stories and experiences in relation to our activities and the ingredients used.
We contributed to the round table on invasive species of the Mediterranean sea, hosted by Club Canottieri Roggero di Lauria, by sharing experience and initiatives coming from the Conservation Collective.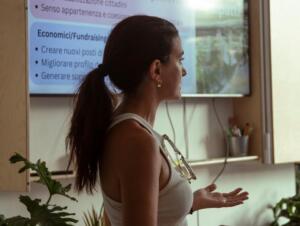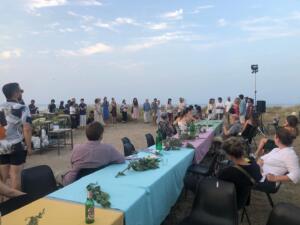 News from our Network

Conservation Collective comprises a global network of locally-focused environmental foundations, emerging from the natural instinct of all people to protect what they love. Conservation Collective facilitates funding for the most effective grassroots environmental initiatives, with world-class oversight, management, and programme aid.
Conservation Collective global gathering 2023
We joined the local foundations of the Conservation Collective at the global gathering organised in Corfu, Greece. A great opportunity to exchange experience and knowledge, challenges, goals and our shared love for nature!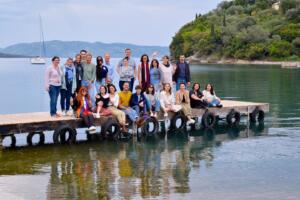 Network townhall: Prevention and management of wildfires
In the summer of 2023, dozens of prolific wildfires hit the Mediterranean region, notably in Corfu, Rhodes, mainland Greece, and Sicily. With its strong presence in the Mediterranean, Conservation Collective hosted one of its regular discussion and knowledge sharing 'townhall' meetings on the topic wildfires, using some of the projects supported across the network as case studies.
Read about the discussions and what we learnt.
—
"Even small amounts, in the hands of capable people, can move mountains." Ben Goldsmith
Donations can be made by bank transfer either to the Italian bank account or to the UK bank account hosted by the Conservation Collective. Get in touch with 
gaia@sicilyenvironment.org
 for bank details.
Please note that donations are eligible for tax deductions.